Want your own numbered cones at home or for your training place? Want to run courses up to 50 obstacles long? Would you like different colored numbers? Or do you need to number combination obstacles with 'A', 'B', 'C' or even 'D'? Well now you can!
I've just added a new feature to the website to create big, easy to read, multi-color number sets you can download, print or plain paper, cut out and tape or glue onto your cones. You can also print the numbers right on self-stick labels!
The page generates a PDF containing numbers 1-50 and combo numbers 1A, 1B, 1C, 1D to 8A, 8B, 8C, 8D. Here are some example pages in different foreground and background colors: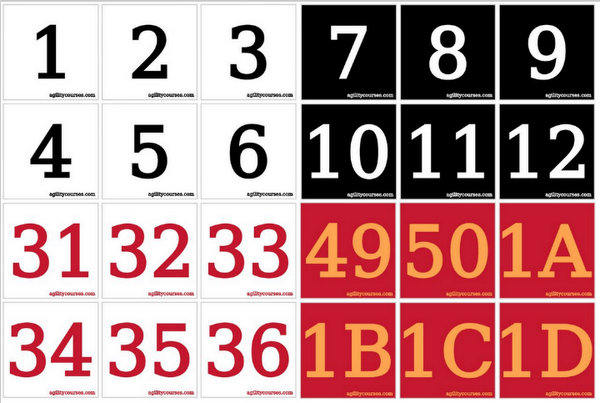 Here's how the 3" x 3" numbers look on 9" tall and 7" tall cones:
3 inch number on a 9 in cone
3 inch number on a 7 in cone
So go to the Cone Numbers page, pick your colors and download your own set(s) of numbers! Give it a try!